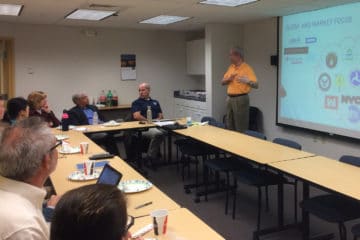 Nobis Group (Nobis) and Verina Consulting Group, LLC (VERINA) are pleased to announce the U.S. Small Business Administration (SBA) approval of a Mentor-Protégé Agreement under the 8(a) SBA Mentor-Protégé Program.
The SBA's Mentor-Protégé Program is a program designed to help small businesses compete for federal contracts, improve technical and management skills, and enhance their capabilities through an effective mentoring relationship with a larger and more experienced federal contracting firm.
As a mentor and a long-time federal contractor, Nobis will provide management, technical and business development assistance to VERINA to help them more effectively compete in the federal marketplace.
"Nobis is very excited to be entering into this SBA approved, 8(a) Mentor-Protégé Relationship with VERINA. We look forward to partnering with VERINA and the opportunity to provide outstanding environmental, remedial and construction related services to existing and new federal customers," said Scott Harding, Nobis' Director of Federal Services.
About Nobis Group
Founded in 1988, Nobis Group provides engineering and environmental services for every scale and complexity. With a cohesive team of professionals, Nobis provides solutions to public and private clients on projects that include site development, energy and infrastructure, transportation improvements and site remediation. Nobis is committed to helping communities work better for all by focusing on best practices in sustainable design and development.
Nobis is a successful graduate of the 8(a) SBA Program and was selected as the 2014 National SBA 8(a) Graduate Firm of the Year. For more than 24 years, Nobis has been supporting various federal customers such as the U.S. Army Corps of Engineers (USACE) and the Environmental Protection Agency (EPA). Through its successful experience as a prime federal contractor and 8(a) graduate, Nobis is looking to assist VERINA with achieving its small business goals.
About Verina Consulting Group, LLC
Founded in 2011, VERINA provides comprehensive professional and engineering services in the environmental fields. VERINA offers a wide-range of services supported by the expertise and extensive experiences of their staff. VERINA provides services to clients with regulatory insight, technical innovation, and unparalleled responsiveness at sites related to government operation establishments, industrial and manufacturing facilities, fuel storage terminals and dispensing facilities, above-ground and underground storage tanks (AST/UST), CERCLA sites, RCRA facilities, and Brownfield site redevelopment.
VERINA offers services to clients with practical approaches to meeting clients' needs and complying with regulatory requirements. VERINA has earned a reputation for providing cost-effective solutions to a complex variety of project problems. From a home office in Bridgewater, New Jersey, VERINA provides services to private and commercial clients and public agencies along the Eastern seaboard.
For more information, visit www.nobis-group.com and www.vcg-llc.com or follow Nobis on Twitter at https://twitter.com/nobisgroup and LinkedIn at https://www.linkedin.com/company/nobis-group/
back to all resources