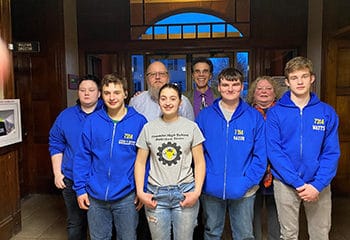 Tony Giunta, Director of Project Development at Nobis Group and Mayor of the City of Franklin, NH, recently coordinated with Tim Andrews, PG, Nobis' Director of Environmental Services, to facilitate a partnership between Nobis and the Franklin High School Robotics Team.
Andrew Bulluck, EIT, a Civil Staff Engineer at Nobis, volunteered his time by mentoring students at several of the Robotics Team's weekly meetings. "I really enjoyed the opportunity to work with these students and provide guidance on how to approach challenges in new ways," stated Bulluck. "I have to say though, when it comes to actual robotics, I was clueless compared to the kids on this team! They are really talented." Bulluck joined Nobis Group in 2019, shortly after graduating from UNH. In his time with Nobis, he has served in a major role as Site QC Manager on the firm's Elizabeth Mine Superfund project site in South Strafford, VT.
Pictured is Giunta with Franklin High School Robotics Team Members and Coaches.
back to all resources