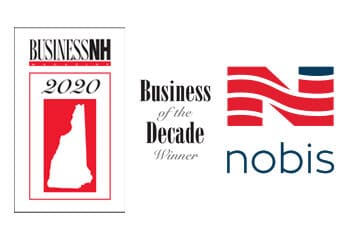 Nobis Group has been named New Hampshire's Business of the Decade in engineering and construction by Business NH Magazine and the NH Association of Chamber of Commerce Executives. This prestigious award is bestowed upon companies who exemplify leadership within their industry and contribution to their communities.
"This award belongs to all of us here at Nobis and I am incredibly proud of the dedicated and talented employee-owners that make up our dynamic Nobis team," said Kenneth Koornneef, President & CEO of Nobis Group.
Having received the Business of the Year Award in 2011, Nobis Group was invited to compete with all other Business of the Year recipients in engineering and construction from 2011-2019. Determined by a panel of nearly 50 judges through two rounds of scoring, Business of the Decade winners were announced in nine categories including Engineering & Construction; Education & Nonprofit; Financial Services & Insurance; Health Care; Manufacturing & Technology; Hospitality & Tourism; Retail & Wholesale; Business Services; and Business Assistance.
"This is an outstanding recognition of the Nobis team's long and deep commitment to addressing our clients' challenges and the needs of our local communities," stated Nannu Nobis, founder of Nobis Group. "It takes many years, yet it happens every day at Nobis."
Award recipients are featured in the July 2020 issue of Business NH Magazine and will be recognized at a ceremony on October 13th.
Congratulations to all Business of the Decade Award Recipients!
Business Services: McLane Middleton (Manchester, NH)
Education/Nonprofit: Catholic Charities NH (Manchester, NH)
Financial Services/Insurance: Bank of NH (Laconia, NH)
Health Care: Cornerstone Visiting Nurse Association (Rochester, NH)
Hospitality/Tourism: Great NH Restaurants (Bedford, NH)
Manufacturing/Technology: Hypertherm (Hanover, NH)
Retail/Wholesale: Palmer Gas & Oil (Atkinson, NH)
Business Assistance Organization: NH Small Business Development Center (Durham, NH)
Read more on Business NH Magazine's website here.
back to all resources