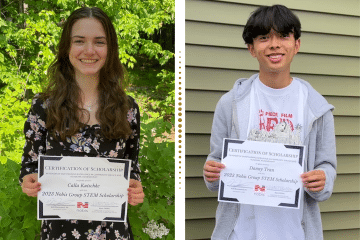 Nobis Group recently awarded scholarships to two 2023 high school graduates.
Now in its fifth year, the Nobis scholarship program was developed to further the company's dedication to promoting Science, Technology, Engineering, and Mathematics (STEM) to high school students. The scholarship is awarded to graduating high school seniors in New Hampshire and Massachusetts who have demonstrated an interest and are pursuing further education in STEM fields at a college, university, or trade school. Scholarship applications, essays, and transcripts are evaluated by an internal committee at Nobis comprised of scientists, engineers, and administrative professionals tasked with selecting students who best demonstrate a passion for STEM.
"The students who apply for our scholarship each year are truly impressive. It's encouraging to see so many young people committed to not only the environmental and engineering fields, but also to bettering their communities," noted Katie Dillon, Nobis Group Director of Marketing and Chair of the firm's Scholarship Committee. "It's always a challenging task to pick the winners, but I know our committee considers it a great privilege to be a part of supporting students in their pursuit of STEM education."
This year's recipients include Massachusetts student Danny Tran of Lawrence High School and New Hampshire student Calla Kutschke of Nashua High School North. Tran and Kutschke are both at the top of their graduating classes and are pursuing higher education in the fields of Environmental Science and Environmental Engineering, respectively.
back to all resources