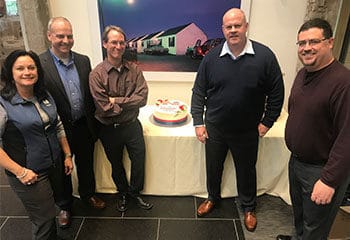 Nobis Group, an integrated consulting firm providing engineering and environmental solutions to clients throughout the Northeast, is pleased to announce the selection of their three newest Associates.
"Nobis is proud to announce the promotion of these three highly talented professionals and leaders who have been committed to the growth and success of Nobis over many years," said Ken Koornneef, P.E., President and CEO of Nobis Group.
Clarence "Tim" Andrews, PG has been promoted to Associate. Mr. Andrews has 25 years of experience managing numerous environmental investigations, remediation, and construction projects at a variety of complex and technically challenging sites. Mr. Andrews currently serves as Nobis' New Hampshire Director of Environmental Services where he leads a group of engineers and environmental scientists executing projects for public and private clients.
Alfred Jones, PE, Nobis' Director of Geotechnical Services, has been promoted to Associate. Mr. Jones brings more than 25 years of geotechnical engineering design and construction experience and has worked on a wide range of projects throughout the Northeast. He has managed a diverse mix of infrastructure and transportation projects from feasibility study to final design and construction. He leads Nobis' Geotechnical Services Group and is responsible for allocating resources to projects and providing training to a team of engineers.
Denis McGrath, CHMM has been promoted to Associate. Mr. McGrath has over 20 years of environmental experience in the Federal market overseeing the investigation and remediation of numerous military and Superfund Sites. Mr. McGrath currently serves as Nobis' Massachusetts Director of Environmental Services managing a staff of environmental scientists and engineers on environmental projects for both public and private clients.
back to all resources