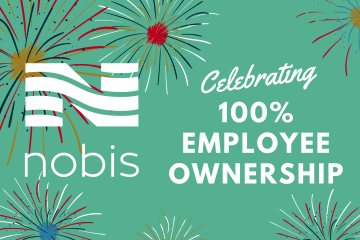 Nobis Group is pleased to announce that the firm has achieved its longstanding goal of becoming a 100% employee-owned company. An award-winning engineering and environmental services company, Nobis Group was founded by Nannu Nobis in 1988 and has been providing expertise and solutions for public and private sector clients throughout the United States for over 30 years.
"This is a very exciting and important moment, marking the beginning of a new chapter for Nobis Group," noted Ken Koornneef, PE, President & CEO of Nobis Group. "As employee-owners, we're all in it together to continue the growth and success of the company and we're so proud to be able to carry forward Nannu's lasting legacy. We're all very grateful for the vision Nannu had back in 2003 when he first established our employee stock ownership plan, and for his steadfast commitment throughout the years to stay the course towards achieving 100% employee-ownership."
Nannu Nobis has stepped down as the firm's Board Chairman, but will serve in an advisory role to assist with the ownership transition.
"The company is now in the hands of a talented and dedicated group of employee-owners and leaders. They've built a vibrant workplace culture delivering customized solutions for our clients that improve our communities and benefit our environment," stated Nobis. "I could not be more proud of or confident in the future of Nobis Group."
back to all resources