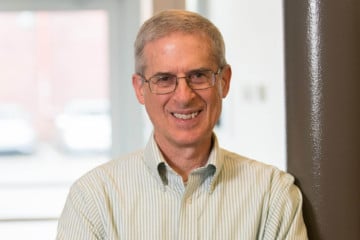 Nobis is pleased to announce that Senior Hydrogeologist Dr. James Vernon received the New England Water Works Association (NEWWA) Volunteer of the Year Award for his outstanding service throughout the year to NEWWA. Dr. Vernon also received an award for his 10 years of service as Chair of the NEWWA Groundwater Committee. He frequently presents at seminars offered by NEWWA. In 2014, Dr. Vernon and the Groundwater Committee offered a pre-Conference Workshop at the American Water Works Association national convention in Boston, MA.
Dr. Vernon leads Nobis' water supply practice, which includes planning and assessment services from a water resources perspective and technical services focused on groundwater sources for water supply (i.e., wells). A particular focus of Dr. Vernon's is the development and permitting of new water supply wells, including wells tapping both overburden and bedrock aquifers. Dr. Vernon is active, professionally, within the water supply field, serving on technical advisory committees, teaching professional seminars, and serving on committees for professional organizations. "Jim is a terrific resource of knowledge and has extensive hands-on experience to help our clients with their water supply needs and concerns." stated Nobis' President, Kenneth Koornneef, P.E.
Dr. James Vernon has been a consulting hydrogeologist/geologist since 1990. He has located, developed, permitted, and protected groundwater supplies (wells and springs) for federal, state, municipal, and private clients in eight states, including all New England states as well as New York. He has conducted groundwater studies in a variety of geologic settings including glacial deposits, weathered rock, crystalline bedrock, and sedimentary bedrock. He has worked successfully with regulators and regulations in all of the above states to permit new wells and bottled water sources.
back to all resources