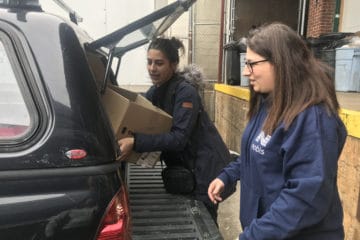 This year marks Nobis Group's 30th year as one of the region's leading small business engineering and science firms. Starting as a one-person business in Concord, New Hampshire, Nobis has grown into an award winning employee-owned firm specializing in providing civil engineering, geotechnical engineering, and environmental remediation solutions for public and private clients throughout the Northeast.
As part of its 30th anniversary celebrations, Nobis has many planned events for 2019 that will promote the firm's culture and brand with its employees, partners, and clients. "The key to our successful growth over the years has been that we've never forgotten who we are as a firm, our culture and the way we do business," said Ken Koornneef, President and CEO.
The year-long festivities started this past week with Nobis' annual Engineers Week celebrations, where the firm recognizes their employees with various luncheons, gatherings, and engineering activities. The celebrations were capped off by Nobis' CANgineering competition, where employees competed to build creative structures from canned food items and then donated the canned goods to local food banks and soup kitchens.

"The CANgineering competition is a fun way for us to promote the firm's teamwork and community service philosophies," said Allie Goldberg, an environmental engineer at the firm. "Employees get to work together, have fun competing with their colleagues, and then end the competition with a donation to two of our local non-profit organization partners."

"One of our core values is to help build better communities, not just through our engineering and science expertise, but also by incorporating community service into our day-to-day activities," said Koornneef. The CANgineering competition is just one of many events that Nobis participates in to solidify its commitment to serving the community. Nobis maintains an active Community Outreach Team and the company offers employees paid time off each year to participate in community service projects. This year's CANgineering competition included five teams, over 50 employees, and raised over 800 pounds of canned food donations to the Friendly Soup Kitchen in Concord, New Hampshire, and the Merrimack Valley Food Bank in Lowell, Massachusetts.
back to all resources