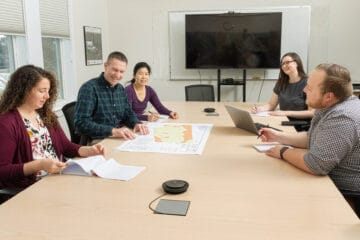 Author: Brett Kay – Director of Civil Engineering Services
In this fast-paced, almost-post-pandemic world, creating and maintaining a leadership culture within an organization has never been more important, more challenging, or more rewarding than it is today. Here are ten keys to establishing and maintaining a leadership culture within a group (in no particular order):
1. Empower staff at all levels: Create an environment where staff feel empowered and are willing to take the lead on projects and tasks. Don't just empower those who report to you, empower your peers and co-workers at all levels within the company.
2. Commit and follow through: Each time we commit and follow through it builds trust and respect with our staff.
3. Delegate, coach, and mentor: Each of these activities is different, but equally important for staff development.
4. Encourage collaboration: Frequent communication and feedback between project team members and throughout the ranks is essential to the success of a project, daily operations, and a healthy team.
5. Trust, but verify: As staff take on new roles, responsibilities, and tasks, it is important to trust, but verify so they don't get lost in the storm. Managers should conduct frequent check-ins with staff on progress, schedules, and resource needs.
6. Celebrate the wins (all sizes): Don't wait to receive the permits or for the check to clear before celebrating the successes of a project. Make time throughout the project to celebrate the wins at a smaller level. Everyone likes feedback.
7. Be fair, honest, and consistent: Don't play favorites – treat all team members equally and fairly. Recognize that you may need to customize your communication method and delivery for each person, but being honest and transparent builds trust and respect. Staff will be more comfortable and open when they know how you are going to respond, so consistency is key.
8. Mistakes are not failures, they are learning opportunities: Take the uncomfortable deep dive into how and why a project or certain tasks were unsuccessful or struggled with and then discuss it openly and honestly so you and your team can learn from it.
9. Build on people's strengths: We are all different and bring a variety of skills to the table. Identify what people do best and build on it.
10. Last, but not least, practice what you preach: Actions speak louder than words and people are always watching, so do what you say and say what you do.
The old school mentality of leadership being something that can only develop from years of experience is a thing of the past. If we stand around and wait for staff to become great leaders via the timescale then we will lose important members of our staff and fall behind the competition. Play an active role every day to foster growth and leadership throughout your group. Everybody can be a leader at something and recognizing this and understanding how to use an individual's strengths to help them grow will create a highly functional team that's happy, productive, motivated to work together, and committed to success.
back to all resources