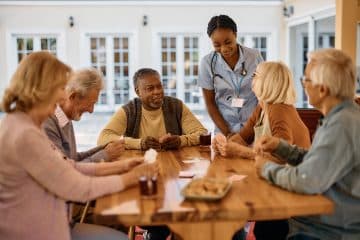 New England's Affordable Housing Shortage – Don't Forget Our Seniors!
Authors: Peter Delano, PE – Senior Vice President | Associate & J. Christopher Nadeau, PE – Director of Commercial Services | Associate
We've all seen the news reports and articles explaining the need for more affordable housing choices in Massachusetts, and throughout all of New England, for that matter. Over the past several years, Millennials (those born between 1980-1994) have bought up a record number of homes due to year-after-year, ultra-low interest rate mortgage loans; and Generation Z (born 1995-2015) is now faced with greatly increasing housing costs and high rental rates against a low inventory. On top of all this, the Baby Boomer Generation (those born between 1946-1964) are now retiring at a rapid pace and seeking out a wide variety of senior housing options as well.
In Massachusetts alone, a shortage of more than 100,000 housing units was forecasted in 2022. When it comes to the aging "boomer" population's housing needs, the issues that lie ahead are not "just" affordability and quantity. The challenge is much more complex. We must provide, with urgency, a solution for the very unique housing needs that our seniors will require at an ever-increasing rate: Continuing Care Retirement Communities (CCRCs).
A CCRC can be defined broadly as a community that offers a full range of long-term housing, healthcare, and essential community services and amenities to its senior residents in a setting where their changing needs over time can be accommodated without having to move to a different facility or community. Also referred to as "aging in place" communities, this is what the majority of senior citizens desire most according to the American Association of Retired Persons (AARP). And these "aging in place" communities are needed in both urban and suburban areas alike.
FIRST, THE NUMBERS:
By 2030, all Baby Boomers will be at least 65 years old. By 2034, the 65+ population will outnumber the number of children in the U.S. and the 85+ population will double from what it is today. Today, the 65+ U.S. population totals about 60 million and, by 2030, this number is expected to reach more than 71 million. These numbers illustrate how critical the need is to provide a massively increased number of CCRCs throughout New England.
Let's take a look at some important site planning features that Planners, Architects, and Engineers must consider and incorporate into their design of these unique "aging in place" communities:
HOUSING UNIT FLEXIBILITY & CHOICE:
CCRCs should offer a mix of housing options including apartment rentals, condominiums, and detached/attached housing units. First floor and ADA accessible living, small-sized units, covered parking/garages, and additional space for live-in home health care aids, as well as the flexibility to move into different types of housing units within the CCRC as residents age are all critical considerations during planning and design.
AMENITIES:
Key CCRC amenities that must be accounted for in planning and design are access to healthcare, shared dining options, and social/recreational activity areas. Many CCRCs provide on-site healthcare clinics, dining halls, clubhouses, pool complexes, and more. The ability to provide these amenities requires an on-site workforce, workforce parking, and, oftentimes, additional related buildings and structures. Ease of access, wheelchair and mobility scooter access, and proximity to housing within the CCRC must be carefully accounted for during the site planning phase.
WELLNESS:
Promoting resident health and wellness and providing access to natural light with indoor and outdoor spaces for socialization and exercise are important site design features for an "aging in place" community, especially with quarantining and social distancing protocols that may still be in effect from the COVID-19 pandemic. Many CCRCs also offer specialized care for seniors affected by Alzheimer's and other types of dementia including circular winding walking pathways, with a focus on sufficient site lighting, proper fencing, and carefully designing all pedestrian-vehicle interface areas.
SAFETY & ACCESS:
Site design layout for access into and throughout a CCRC must also carefully account for vehicle parking for visitors, employees, care providers, senior van shuttles, ambulances, and other emergency services. Design considerations for community access and exit points, whether to have controlled gated access or not, and having an accessible location and process to safely control and receive visitors are all critical design considerations for CCRCs and their residents.
Continuing Care Retirement Communities are not just a solution to our current "boomer" population's critical housing needs – these communities are a long-term investment in the future of all generations, providing choice, independence, and dignity when it comes to aging in a safe, affordable, and supportive long-term housing community.
The effort to provide thoughtfully designed aging in place communities requires many key stakeholders to come together: our community leaders, elected politicians, developers, real estate professionals, and, of course, the Architecture & Engineering industry.
So, let's get going because we're not getting any younger.
back to all resources