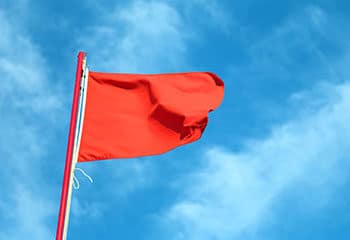 By Sean Colella, PE, Project Engineer
You're holding on to a nice piece of property in New Hampshire and you've got an exciting land development opportunity. You think you've checked all the boxes and identified any and all potential issues. But before you embark on this venture, here are some of the more common red flags that will impact your land development project, both with your schedule and financially.
Local Zoning Regulations
The local zoning regulations in your city or town determine the permitted uses in each of the zoning districts and building setback distances from all property lines. The best scenario is your proposed development project is an allowed use in the zoning district and you meet the specific requirements (building setbacks, coverage, and structure height). In this case, you can eliminate the need to go before the Zoning Board of Adjustment. Be aware, building setback distances may be modified when industrial or commercial developments directly abuts a residential district.
Site Plan Application Issues
Based on the size, scope, and other criteria (each town is different) of the development project, you will submit an application for site plan review with the local Planning Board. The board reviews the proposed development project to determine if it meets all the respective requirements in the town's development regulations. This application is unavoidable, but the closer you can match the regulations, the faster you can get through the board and receive site plan approval, which is critical if your project is time-sensitive. It is most beneficial to submit a thorough site plan application to avoid unnecessary revisions and delays in your approval.
Potential Regional Impacts
Depending on the size or geographic location of the development project (e.g. abutting another municipality or state), the local planning board will determine if they believe there is a case for regional impacts. If the board decides the project will have a regional impact, the abutting city or town will have an opportunity to review and provide comments on your project. You can anticipate more delays to your site plan approval, possible additional plan revisions, and more impacts to the project budget in this scenario.
Historical Resources and Natural Heritage Existing on Your Site
It's in your best interest to submit a request to the Division of Historical Resources (DHR) early in the project discussions. This is a NH state agency that reviews the project scope and geographic location for any historical or archeological sensitive areas. More often than not, a phase 1a archeological survey is requested by the DHR and will be completed at your expense. This survey is a more in-depth review and includes site work by a licensed professional. If you're lucky, the supplemental phase 1a report will not find any archeological sensitive materials on site, otherwise a phase 1b archeological survey is required, adding critical time and budget to your development project.
Likewise, if you have a land development project that will require an Alteration of Terrain Permit (discussed in the next section), you must request a project review from the Natural Heritage Bureau in NH. This agency reviews the project for any potential impacts to threatened or endangered species, including plants and wildlife. There exists a database which tracks these species geographically, and if something appears in close proximity to your project you can expect additional coordination with NH Fish and Game, as needed. Another state agency will have the opportunity to review and comment on your project, which pushes the proposed scheduled and potentially affects your budget.
NHDES Permit Application
An Alteration of Terrain Permit application is required from the NH Department of Environmental Services (NHDES) when your project disturbance exceeds 100,000 square feet. This permit application and processes alone can add months to a project schedule. The application requires input from the property owner, applicant or developer, agents, and engineering consultants. The biggest component of the application is the stormwater management and drainage analyses in which you need to prove that your project will not have any adverse impacts on receiving waters and directly abutting properties. NHDES has 50 days to respond with comments and the reviewing engineers are very thorough.
Presence of Wetlands
It's in your best interest to avoid any and all impacts to designated wetlands on your property. If they are unavoidable given your planned development project, a Wetlands Impact Permit is required and submitted to the NHDES. The permit application process will create delays in your anticipated schedule and give the wetlands bureau an opportunity to review and provide more comments. In addition to the NHDES review process, the Army Corp of Engineers (USACE) will, by default, receive a separate application for your proposed wetland impacts. The USACE process includes a review of threatened or endangered species, but they use a different database than does the NHB. This is incredibly challenging if the USACE identifies another species and you've already started, or finalized, your site design.
Knowing these common red flags that could impact your land development project will help better prepare you to navigate the sometimes challenging world of site development. Some of these challenges will be unavoidable, but with more knowledge, you can effectively push through the permits and minimize impacts to you budget and schedule. Now that you're ready, go get it!
back to all resources